Orange Blossom Honey
Exploding With Sweet Goodness!
Orange Blossom Honey has the light color and floral flavor that is typical of the most commonly prized and popular honeys. Oranges may be the most important prize from the grove but this honey is another one to naturally treasure!
This honey may truly be mono floral... however it is likely that it will include nectar from other citrus sources flowering at the same time and in the same location. These sources may include grapefruit, tangerine, lemon, and lime but they will complement the orange nectar in such a subtle way that the entire harvest will usually be labeled as orange blossom honey. It the most commonly known in the market place.
Do be careful though... the light color and flavor of this honey makes it an easy target for forgery. As with any honey, make certain you are using a reliable and trust worthy source so you get the real thing!
---

WHIZZ NOTE: Popular all around the world. This honey will catch your attention with its attractive qualities!
Flavor... explodes with fruity and floral hints, is sweet with the distinctive aroma of citrus blossoms, very thick texture.
Color... is light amber to white with the lighter color and milder flavor coming in years when there is a heavy nectar flow and less influence from other nectar sources.
Storage... is average among honeys.
---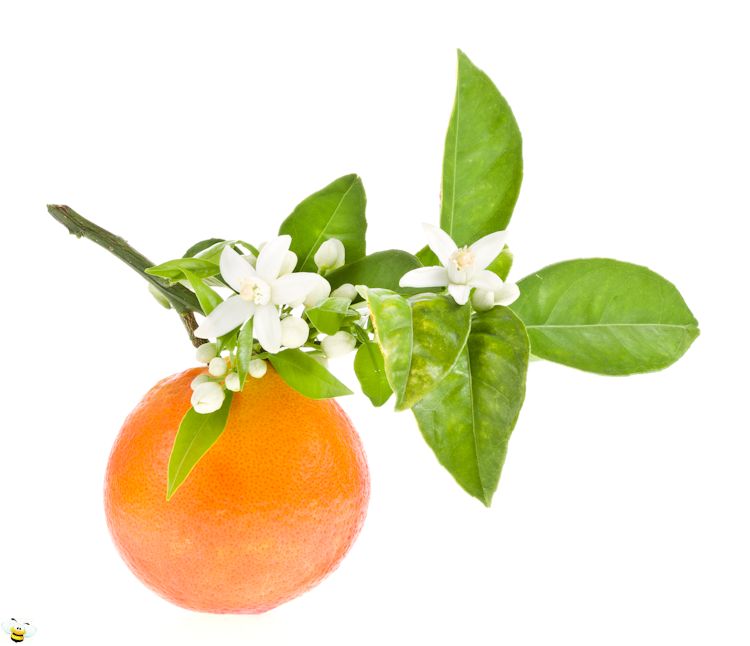 ---
Plant:
The orange plant is a tree that is grown in tropical and subtropical climates for its sweet fruit. This tree requires considerable amounts of sunshine and water and is an evergreen, flowering tree with an average height of about thirty feet. Its oval leaves are two to four inches long and arranged in an alternating pattern along the stem.
Bloom:
The orange blossom is very fragrant and traditionally associated with good fortune. Each flower has five uniformly arranged brilliant white petals.
The date that the trees will bloom may vary as much as a month from mid-February to mid-March or even later. It can be a challenge for a beekeeper to anticipate the bloom period and be prepared at the ideal time every spring.
Location:
Florida and Southern California are the primary orange blossom honey producers in the United States. However, you will also find significant orange groves in southern states like Louisiana, Texas, and Arizona.
This honey is also produced in other countries that citrus groves are found such as France, Spain, and Mexico.
Honey and Pollen Potential:
As mentioned earlier the orange may bloom anytime between February and April depending on location and weather conditions. A beekeeper should learn to predict the flowering period and have the bee hives ready to go for this fantastic nectar flow source.
Citrus groves can be expected to yield 70-100 lbs of honey per hive in ideal conditions. A large concentration of this flowering tree is appealing to honey bees and provides an ideal opportunity to produce mono floral honey.
Beekeepers will move their bee hives out to the swamp lands to collect nectar for gallberry honey typically after the citrus groves have finished blooming.
Pollen potential yield is average.
---
---
The sweet floral and fruity hints of orange blossom honey along with its light amber to almost clear color have made it a widespread favorite!
You will love to use this honey in many ways...Try some drizzled on berries and yogurt.  Substitute syrup on top of your waffles with a dip of honey. You will find it as a wonderful complement for strong and mild cheeses, especially blues.
And don't forget to pair this mild honey with your favorite teas. The light floral and fruity hints complement the delicate flavor of teas nicely!
---
Honey

›
Good Honey Plants
› Orange Blossom Honey